Printing Times and Delivery
Standard printing times - 5-7 working days
Express 2-3 day - Usually ships within 2-3 working days + £10
Note: These times are working days and delivery times need to be added to the above.
Printing options (as shown below) are how long it takes for us to print your order. We print in-house to ensure that our printing times are the fastes in the industry.
If you need your order in a hurry we suggest you choose our Express 2-3 day print (additional cost applicable).
For printed golf balls our printing lead times are a little faster and we offer quicker expedited print option.
Standard printing times - 3-5 working days
Fast 2 day - Usually ships within 2 working days + £6
Express 24 hour - Usually ships the next working day + £12
Super Express Same Day - Usually dispatched the same working day if ordered before 12pm + £18
Step 1: Select your printing times within the customiser (see below)
To order select your product, then upload the photo, logo or text for printing. You will see a printing options section above the quantity and add to cart buttons. This will automaticallt default to the standard (free) printing option either 5-7 or 2-3 working days depending on the product. Fast, Express and Super Express lead times can be selected here and it will tell you the addtional costs for each one.
Step 2: Your delivery options
Printing, or lead times are how long it takes us to print your order, you will also need to select your delivery method at the checkout (see below). The time it takes for us to print plus delivery is the estimated time for you to receive your order. For example if you selec the standard 5-7 working days for printing and the 2-3 day delivery option, your order will be with you in a maximum of 10 working days. When you select your delivery method in the checkout you will see an estimated date for your delivery, this is based on these two timescales.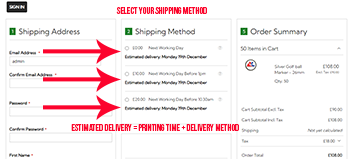 The estimated delivery in the checkout is later than I wanted, how do I change it?
Click on our logo in the top left hand corner of your screen then click the Shopping Cart on the top right of the home page use the black Shopping Cart button to navigate back to your cart.
From here you will see the balls you selected and the personalisation, between these are the printing lead times, your selected method will be highlighted.
Change to your desired lead time, the total will change to add on the extra charge then click Proceed to Checkout. When you select a delivery method the estimated delivery day will be updated. Your estimated date of delivery will also be displayed on your order confirmation.
Frequently Asked Questions
Are there any extra costs for printing or set-up?
Printing is included in the price of all of our personalised ball and there is no set-up charges. Some products offer prints onto more than one panel/side, these options and pricing will show on the individual products these are applicable to.
What format of logo/photograph do you require?
The best quality format is a high quality jpg or png file. The higher quality the better the print. For some logo's we may request vector format (either an ai or eps file) we will email if this is needed after your have placed your order. If you have any queries about the format of your logo or want to check how your logo will print please drop us an email
Can you edit my image for me?
We can crop any images and for certain logos we can make amendments. For changes please either email us first or leave a note in the comments box at the checkout when you place your order.
Will you print whatever I want?
Within reason yes, we do however reserve the right to censor any explicit words without prior warning or refuse to print images which we deem offensive. Wherever possible we will contact you in advance to advise but this cannot be guaranteed during busy periods.
Will the image wear off?
The print on our golf balls is fairly durable but will wear during play, we would expect it last around 9-18 holes but this may vary with different balls and playing conditions.
The print on our larger sports balls is semi-permanent so this will wear during play, high impact sports such as football, rugby or hockey where the ball has a lot of contact with the ground, feet or a bat may see the print come off quicker than on our squash or table tennis balls.
What is the minimum order quantity?
We have no minimum order quantity so each product is sold either in 1's or in the case of our squash or tennis balls as a pack. Products which are sold as a pack of more than one will show this information in the product title.
Do you offer a visual proof?
We don't offer a visual proof for our smaller quantity items, the onscreen visual within the customiser gives a good idea of how your logo will look when printed and will be roughly to scale.
For larger order we do offer a visual for certain products, this will be detailed on those specific products within the product description.
Will you contact me to let me know when my order will arrive?
If you have selected the 2-3 day delivery Royal Maill will email you the day beforehand to let you know your parcel is on its way. This will contain a tracking link and estimtated delivery time and offer the option to select delivery options if needed. As our parcels don't need a signature it may be left in a safe place on your property or with a neighbour, if this does happen a 'Something for You' card will be put through your door. It is always a good idea to use the delivery options in your email to select these options as parcels may be returned to the depot if unable to be put through your door.
Orders dispatched on the next working day service will receive an email from DPD/Royal Mail the day before delivery with your tracking link and estimated delivery times. Orders shipped with DPD and the timed services will receive an email on the morning of delivery aroudn 11am with your on-hour delivery window (although this is not always the case with the timed services, before 10:30am and before 1pm delivery. Within your email you will have the option to leave in a safe place or deliver to a neighbour. The DPD app also contains useful functions to track your driver and a "You're Next" notification.
It's been over the estimated delivery date and I haven't received my order/My tracking link says the parcel has been delivered but I don't have it.
Firstly check around your property and any safe-place to see if your parcel has been left, also check with neighbours to see if it has been take in. We sometimes see this happen if a 'Something for You' card hasn't been left. If you have had an email to say the parcel has been delivered both DPD and Royal Mail take a photograph as proof of delivery and this can be found within your tracking.
If you don't manage to locate your parcel drop us an email with your order number and the details, we will raise this wil the delivery provider, they do normally take 48 hours (during the week) to come back with initial feedbakc so bare with us while this happens. If the parcel is deemed as lost we will re-print as a priority.